My Birthday
Several years beforehand, when I was still living in New York, I had the idea of celebrating my 2011 birthday in the sun. I didn't know at the time that I would be living in Sydney again by the time 2011 came around, but it seemed like a good idea to bring my family and friends from all over the world to a beautiful place for a celebration.
I had originally considered having the party in Auckland, but as the date approached it became clear that I could organise something much more successfully here in Sydney.
Clark Island
After casting around for ideas for a venue, I settled on Clark Island in Sydney Harbour. It turned out to be an inspired choice. Clark Island is a small (0.38 hectare) island, just off Darling Point in the middle of the harbour — I must have passed it on the ferry dozens of times and never noticed it. It seems I wasn't alone in that respect; few of the people at the party had ever set foot on the island before either.
But the island was perfect for the occasion — small enough to keep the party together, but large enough to provide good opportunities for wandering and exploration. Isolated from the mainland, yet only a 20 minute ferry ride from the city.
The Day
The day was a spectacular success. The weather when I woke was ominous, and friends rang to ask what was plan B. There was no plan B. But we needn't have worried — by mid-morning the rain had stopped, the clouds were clearing and the sun came out and stayed out.
I want to thank everyone — as profoundly and publicly as I know how — for helping to make the day such a triumph. Thank you to Grant and Stefan (but mostly Grant) for providing the excellent food. It made the rest of my planning so much easier knowing the catering was in safe hands. Thank you to Elizabeth and Gerri (but mostly Elizabeth) for my birthday cake, which managed to be witty, stylish and delicious all at the same time. And especially thank you to Michael, for all your help with logistics and transport and planning. I couldn't have done it without you.
And lastly, thank you to all the people who came to the party. Of course, special mention must go to Tony and Pat who came all the way from England, and to the large contingent who came from the U.S. But thank you also to those who came from Sydney and Canberra — it's the people who make a party, and this was a lovely group of people.
Truly a day to remember.
Birthday Cake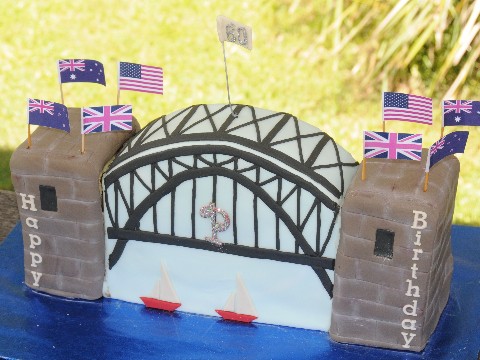 My birthday cake, in the shape of Sydney Harbour Bridge. The flags represent all the countries I had lived in (up to that point, at least).